Since 2012, Sports Legacy Pilot Scheme and Experimental Stage were implemented by the Hong Kong Athletes Career & Education Programme (HKACEP) under the auspices of Sports Federation & Olympic Committee of Hong Kong, China (Federation) which has received numerous positive feedbacks from involved stakeholders. Starting from this academic year, the new phase of "Sports Legacy" Scheme (Scheme), supporting by three strategic partners and sponsors including: Lee Hysan Foundation, Chow Tai Fook Charity Foundation and Sports for Hope Foundation, with over HK$16M in promoting a new concept of holistic sports development scheme in secondary schools, benefitting over 8,000 students from 14 secondary schools under 26 athlete coaches' instructions.
The launching ceremony of the Scheme was successfully held on 11 September 2015 (today) at HKJC Lecture Theatre of the Olympic House to officially kick-start the "Sports Legacy" Scheme 2015-18. Officiating guests included Mr. Jonathan McKINLEY, JP, Deputy Secretary (Recreation and Sport) of Home Affairs Bureau, Ms. Cecilia HO, President of Lee Hysan Foundation, Mr. Peter CHENG, Chairman of Chow Tai Fook Charity Foundation, Ms. Marie-Christine LEE, Founding Chairman of Sports for Hope Foundation, Mr. Victor HUI GBS, JP, Vice-president of Federation cum Chairman of HKACEP Committee and Mr. Ronnie WONG, JP, Hon. Secretary General of the Federation.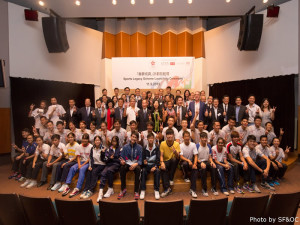 Mr. Victor HUI thanked the three strategic partners and sponsors, benefitted schools, respective National Sports Associations and athletes for their staunch support to the Scheme. In the new phase, a brand-new initiatives namely 'Specific Sports 1+1' will be introduced of which three key components including sports-specific training, sports-related fitness training and sports-related career guidance will be implemented by the athlete coaches to the students in schools, so as to motivate students actively participating in sports and leading up to a sports-related career development.
Ms. Cecilia HO expressed that "Sports Legacy" Scheme is the first sports-related project funded by the Foundation. I hope students could learn sportsmanship and respect through the long-term systematic training while athlete coaches could make the best use of their professions to contribute in schools under the Scheme."