Organised by the Hong Kong Sports Institute (HKSI), supported by the Sports Federation & Olympic Committee of Hong Kong, China (SF&OC) and the Hong Kong Sports Press Association (HKSPA), the Sports for Hope Foundation (SFHF) Outstanding Junior Athlete Awards presentation ceremony for 3rd quarter of 2018 was held at the HKSI today. A total of 14 junior athletes were presented the Award for their excellent performance.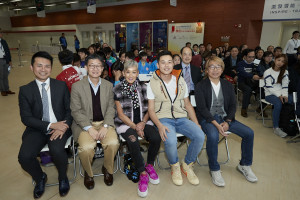 The awardees were Cheung Ka-wai and Yip Kin-ling (Billiard Sports), Jerry Lee and Sin Kam-ho (Dancesport), Chan Yin-fei and Hsieh Sin-yan (Fencing), Chan Sin-yuk (Squash), Ng Ki-lung and Wong Hong-yi (Tennis), Lee Ka-yee and Yu Nok (Table Tennis), Oscar Coggins (Triathlon), Sham Hui-yu and Wang Tin-yan (Wushu).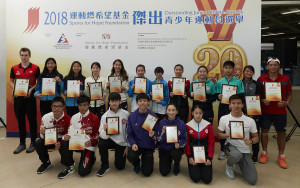 Officiating guests included Miss Marie-Christine Lee, founder of the SFHF; Mr Pui Kwan-kay SBS MH and Mr Tong Wai-lun BBS JP, Vice-Presidents of the SF&OC; Mr Raymond Chiu, Vice Chairman of the HKSPA; and Dr Trisha Leahy BBS, Chief Executive of the HKSI.
Both Wushu athletes Sham Hui-yu and Wang Tin-yan won two gold medals at the 7th World Junior Wushu Championships held in Brasilia, Brazil. Sham won gold in the Girl's Changquan A and the Girl's Qiangshui A while Wang claimed gold in the Girl's Nanquan B and the Girl's Nandao B. Sham sets her sights at the World Wushu Championships to be held next year. "It will be the first competition after I reach my adult age. I will train hard to be qualified for the Championships," said Sham. Wong will focus on coming international junior competitions. She thanked the SFHF for the recognition of her achievement. The Award motivated her to keep going and strive for better result.
Fencer Hsieh Sin-yan won her third OJAA title this year with outstanding result in international competitions. At the 18th Asian Games held in Jakarta, Indonesia, Hsieh and the team defected Kazakhstan to enter into the semi-final of the women's epee team event. The team eventually got a bronze medal, which is also Hsieh's first Asian Games medal. She believes that every competition is a new beginning and the incredible experiences she gains from each competition helps equip her for better performance in future competitions.
In addition, 10 athletes were awarded the Certificate of Merit for this quarter, including Chan Chi-keung and Cade Cameron Wright (Athletics), Cheng Hui-pan and Tang Yu-hin (Karatedo), Lo Yin-chung (Roller Sports), Leung Ka-huen (Squash), Fok Yin-hei and Lam Yuen-ping (Shuttlecock), Cheuk Ming-ho (Swimming), Jasmine Claire Farrer (Finswimming). Yu Chuen-yiu and Yu Ka-po (Karting), Lee Ching-nam (Roller Sports), Ng Wing-laam and Wong Man-ching (Volleyball) were presented with the Certificate of Appreciation to recognise their hard work.
Riding on this opportunity, the HKSI also acknowledged the outstanding achievements of Hsieh Sin-yan and Wong Lok-hei (Athletics) attained at the Youth Olympic Games (YOG) held in Buenos Aires earlier this year.  Hsieh Sin-yan won two silver medals in the Women's Épée Individual and Mixed Continental Team, and Wong Lok-hei won a bronze medal in the Men's 110m Hurdles. Hsieh and Wong were awarded HK$24,667 and HK$10,000 respectively. The Youth Athletes Scholarship Award is funded under the Hong Kong Athletes Fund which aims to provide scholarships to local athletes aged 18 or below who achieved outstanding performances at the YOG, Asian Youth Games  and Asian Youth Para Games.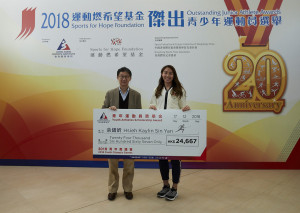 Organised by the HKSI and sponsored by the SFHF since 2012, with support from the SF&OC and the HKSPA, the OJAA recognises the achievements of outstanding local junior athletes under the age of 19 on a quarterly basis. Each recipient is presented with a cash prize of HK$2,500, a sports voucher worth HK$2,500 and a certificate. For teams, they will receive a cash award of HK$10,000, a sport voucher worth HK$10,000 and certificates.
The HKSI is the Government's elite sport training systems delivery agent and is committed to providing an environment in which sports talent can be identified, nurtured, and developed to pursue excellence in the international sporting arena and to inspire potential athletes to pursue a full-time sports career.