Organised by the Hong Kong Sports Institute (HKSI), the Sports for Hope Foundation (SFHF) Outstanding Junior Athlete Awards (OJAA) presentation ceremony for the 2nd quarter of 2015 took place at the HKSI today. Eight junior athletes were awarded for their outstanding performance in this quarter.
Officiating guests included Dr Trisha Leahy BBS, Chief Executive of the HKSI; Mr Tong Wai-lun MH JP, Vice-President of the Sports Federation & Olympic Committee of Hong Kong, China (SF&OC); Mr Raymond Chiu, Vice Chairman of the Hong Kong Sports Press Association (HKSPA) and Miss Marie-Christine Lee, founder of the SFHF.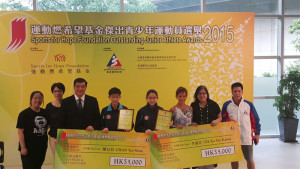 The recipients were Wong Ka-lok (archery), Chan Ming-tung and Tam Yun-fung (billiard sports), Cheung Ka-long (fencing), Choi Uen-shan(squash), Chan Yee-shun and Lee Ka-yee (table tennis), and Yu Shing-him (triathlon).
Chan Ming-tung, the 17-year-old billiard prodigy, was awarded the title this quarter after clinching a bronze medal in the individual event at the Asian Under-21 Snooker Championship 2015. Chan started the sport when he was only eight but managed to achieve a podium finish a year after. His parents have been very supportive and they even sent him to Guangzhou to train by the coach of the legendary Chinese player Din Junhui. Chan said, "I particularly love playing billiard sports because it does not only help enhance my memory and interpretation of the game, but also transforms me into a person who is independent, perseverant and confident." Chan named elite player Marco Fu as his role model and would like to follow in Fu's footsteps.
Teammate Tam Yun-fung shared the limelight by attaining the same result at the same competition as Chan. Tam expressed his gratitude to the SFHF, "The sponsorship encourages us to dedicate more into the sport, and I will work harder to repay everyone's support." Although there is still a long way to go for as a junior athlete, he sets his goal to train full-time after graduation. The semi-final in the future World Championships is his ultimate target.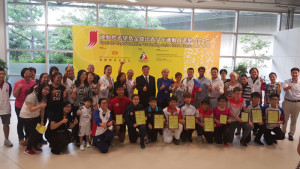 Fencer Cheung Ka-long soon became a star after he turned to full-time training. In the last Asian Championships, Cheung snatched a bronze medal in the men's foil event after eliminating several strong opponents. It was his fourth time being awarded the title and he would continue to work hard to improve his world ranking as well as to secure a place in the Rio Olympics.
The Hong Kong junior table tennis team had done well in the SET 2015 Thailand Junior & Cadet Open while awardee Chan Yee-shun bagged 1 gold and 1 bronze in the cadet boys' team and singles events respectively, and Lee Ka-yee brought home 1 gold and 1 silver medal in cadet girls' team and singles events. Both of them thanked the support from their coaches and family, and they had determined to strive for the best in every single game in the future.
Archer Wong Ka-lok received his first Award after excelling in the recurve cadet men individual event at the World Archery Youth Championships held in the United States. In face of 74 rivals from all over the world, Wong performed solidly and secured the 6th place at last. He was thrilled to be recognised and he would share his joy with parents, coaches and friends.
In addition, Chan Sin-yuk (squash), Cheung Ngai-long, Lam Ching and Sou Ming-chun (tennis), and Oscar Coggins (triathlon) were awarded Certificate of Merit for this quarter.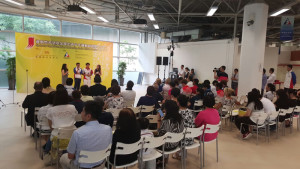 Organised by the HKSI and sponsored by the Sports for Hope Foundation since 2012, with support from the SF&OC and the HKSPA, the OJAA recognises the achievements of outstanding local junior athletes under the age of 19 on a quarterly basis. Each recipient is presented with a cash prize of HK$2,500, a sports voucher worth HK$2,500 and a certificate.
The HKSI is the Government's elite sport training systems delivery agent and is committed to provide an environment in which sports talent can be identified, nurtured, and developed to pursue excellence in the international sporting arena and to inspire potential athletes to pursue a full-time sports career.
* * *
The awardees' achievements in the second quarter of 2015 can be downloaded
here
.
The media attendance and coverage summary can be viewed here.
Photos of the presentation will be sent via e-mail.
Issued by the Hong Kong Sports Institute
For further information, please contact Candice Yu, Public Affairs Officer, on 2681-6283.