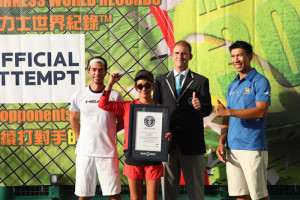 Jérôme Lacorte plays 33 opponents and 457 games in 32 hours to set new mark
[Hong Kong, November 16 2014]: The Sports For Hope Foundation has set the new Guinness World Record for Most Consecutive Tennis Singles match after the charity's representative Jérôme Lacorte completed a marathon challenge, facing 33 singles opponents in a space of 32 hours and 21 minutes this afternoon at the Hong Kong Sports Institute.
Lacorte, a familiar face around the courts in Hong Kong, began playing at 07.00 on Saturday, November 15, and completed the challenge at 15.21 on Sunday, November 16 2014.
The superhuman effort took over 32 consecutive hours – during which time Lacorte played an incredible 457 games and rested only two hours (five minutes per hour) across the entire challenge. The indefatigable Lacorte did not even use his allotted rest time each hour.
Lacorte set the record in the singles match versus Mr Chris Lai, Executive Director of the Hong Kong Tennis Association, a supporting partner of the Guinness attempt along with the hosts Hong Kong Sports Institute.
An emotional Lacorte commented on the feat saying, "It isn't about the Guinness World Record for me, although I am pleased that we set it of course. It was about the teamwork and emotional support that I received throughout the build-up and during the challenge."
"The record itself means nothing compared to the Foundation's fight and our vision. At the end of the day holding the record is nothing compared to all of the emotions that we could live together and I never doubted for a moment that we could achieve this record."
"The support I received is something that I will never forget. It is an incredible feeling that comes through sport, and it is something that I am committed to sharing with youth in Hong Kong and worldwide through the Sports For Hope Foundation," added a physically and emotionally exhausted Lacorte.
Ms Marie-Christine Lee, founder of Sports for Hope, said, "After a year of preparations, thousands of hours of practice and over 33 hours of consecutive tennis singles matches later – we have achieved our goal of setting a new Guinness World Record. Together we have made tennis history. But more importantly we have raised vital awareness, and even more vitally, new funds to support the work of the Sports For Hope Foundation."
Ms Lee thanked Mr Lacorte fulsomely saying, "Jérôme's generosity of spirit and strength of will are what made this incredible moment possible. His participation transcends forehands and backhands. Throughout the campaign he has been the embodiment of the values of sport, the very values that the Foundation exists to promote and share with the widest possible audience."
"Jérôme has inspired us all with his commitment, his endurance and his resilience. We can never fully thank him for what he has done but can only hope that the knowledge that by his actions he has helped support future generations of sportsmen and women to pursue their passion – will be its own fitting reward," added an emotive Ms Lee.
Mr John Garland, Adjudicator of Guinness World Records who certified the attempt and presented the world's newest Guinness Record on Sunday at the Hong Kong Sports Institute said: "That was a remarkable, truly amazing, feat of endurance. What made it even more remarkable is the fact that it was done on a hard surface, with the previous record set on clay."
Mr Garland also commented on Jérôme's approach to the record attempt saying, "You continued to charge every ball throughout; you competed in every match and it was truly inspirational to witness and I am pleased to announce that you are now the holder of this Guinness World Record."
Amongst the celebrity supporters of Lacorte and the Sports for Hope Foundation challenge in attendance on Sunday were Thai ace Paradorn Srichaphan, top-ranked Hong Kong players Zhang Ling and Philip King, Eliot Teltscher (former coach of Pete Sampras), Seheno Razafindramaso (WTA ranking 964), and former Hong Kong number one Tong Ka Po.
Thai tennis legend Srichipan, who played a three set exhibition match with Lacorte after the completion of the Guinness World Record, also commented on the feat saying:
"Once you realize how much work has to go into a record like this it is amazing. Over 30 straight hours of tennis! It's incredible and great for tennis and I congratulate Jérôme on the achievement. Hopefully people who don't know the game will see and read about this and will be inspired to try the game, especially kids around Asia," said Srichiphan.
More details will be released about the success of the charity drive in the coming months.
ENDS
Released on behalf of the Sports for Hope Foundation by Elite Step Asia Limited.
For more details, please contact:
Sean Moore (English-language enquiries) on sean.moore@elitestep.com or
Raymond To (Chinese-language enquiries) on raymond.To@elitestep.com or +852 2808 0977.