What would you do if money is not an issue? Would you relax and retire?
Marie-Christine Lee, the descendent of the prominent Lee Hysan property development family, hosted an afternoon tea at her weekend home for our volunteers who collectively contributed 103 hours to charity.
A goal-oriented and passionate woman, Marie constantly pushes herself through sports (she plays tennis 6 days a week, in addition to gym, cycling and swimming), entrepreneurial pursuits (founded her sports' service company Sport Max and Or-Tea?) and philanthropy (through Sports for Hope Foundation which supports financially in need youths to pursue sports in HK).
From her three-day 400km cycling on the Silk Road in order to raise funds to kick start her charitable foundation called Sports for Hope Foundation in 2011, to the gracious arrangement of teas and cakes baked by her good friend's teenage daughter, proceeds to help the lost loved ones in the recent Manchester attacks — we learned that life's fulfilment comes from within — through giving, sharing and be content.
If you could have a billboard anywhere, what would you put on it?
"Three words — thankful, grateful and blessed.
"Nature is our most beautiful priceless gift. I love the sea, the ocean, the beach. It stirs our heart, inspires our imagination and brings eternal joy to our soul.
It should be something that you shouldn't need to pay — to get a good life. Every time I go to beaches, I will bring along a few recyclable bags to clean up the plastic bottles and other garbage. It's a low cost activity which gives people enjoyment in a natural and a healthy environment.
I've recently watched a documentary called 'A Plastic Ocean' produced by an international team of adventurers, researchers and ocean ambassadors going around the globe to uncover the destructive nature of undecomposable plastic to the marine life and the ultimate harmful consequence to human health."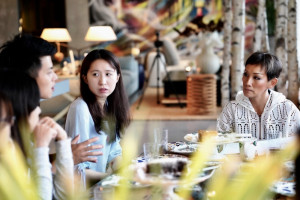 What is the worst advice you've heard in your world?
"It bothers me when people tell me 'you are from a silver- spooned upbringing, why do you need to work so hard?
Why do you need to work? why don't you have a stress-free life? Why do you take on challenges? Why do you step out of your comfort zone?'
It's the heart and soul that is the meaning of my life."

Thank you Marie-Christine for your genuine sharing and the lovely afternoon tea, which has raised 103 volunteer hours to Room to Read, KELY Support Group, LAP Lifelong Animal Protection Charity, Society of Boys' Centres and more. Also big thanks to everyone for joining us and volunteering!
For more inspiring experiences, visit Time Auction, a platform that rewards and encourages volunteerism.
© Time Auction Hong Kong. All Rights Reserved.